An astounding slow motion GIF showing R.A. Dickey's amazing knuckleball and exactly why it can be virtually unhittable: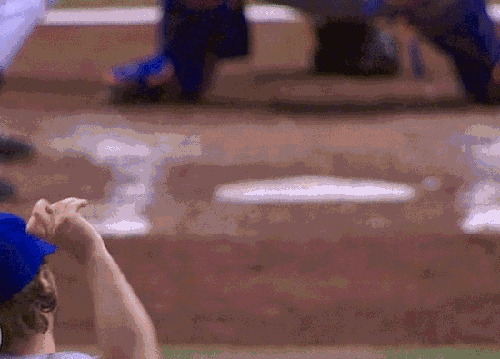 Scientific American explains the science behind R.A. Dickey's knuckleball:
Air drags along the smooth parts of a baseball surface, but the seams produce little vortices that allow air to travel more quickly over them. A fastball rotates 16 or 17 times between the pitcher and batter, and the rapid rotation means that the airflow turbulence caused by the seams is pretty evenly spread over the whole ball and the entire trajectory of the throw, so it travels steadily. On the other hand, a knuckleball rotates only one half to one time on its way to the batter, so the airflow turbulence stays on one side of the ball for a while before slowly moving to the other. The ball drifts in the direction of the leading seam, which slowly moves from one side to the other.

Slow is, of course, relative when it comes to pitching. Most knuckleballs poke along at a zesty 65 to 70 miles per hour, although Dickey's have averaged 77 mph this season. By comparison, fastballs in the majors average about 90 mph. Dickey's speed may be part of the secret to his success, especially when it comes to his unusually high strikeout percentage. Higher speeds mean less erratic movement, which helps him stay in the strike zone. Of course, it's a balancing act because the erratic movement is what makes the knuckleball so hard to hit in the first place.